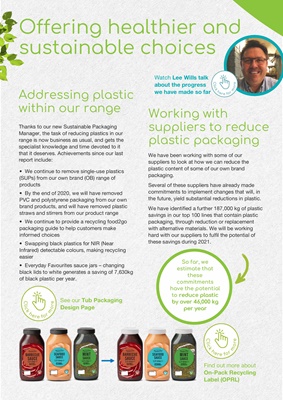 Offering healthy and sustainable choices
Addressing plastic within our range
Thanks to our new Sustainable Packaging Manager,
the task of reducing plastics in our range is now
business as usual, and gets the specialist knowledge
and time devoted to it that it deserves. Achievements
since our last report include:
We continue to remove single-use plastics (SUPs)
from our own brand (OB) range of products By the
end of 2020, we will have removed PVC and
polystyrene packaging from our own brand products,
and will have removed plastic straws and stirrers from
our product range We continue to provide a recycling
food2go packaging guide to help customers make
informed choices Swapping black plastics for NIR
(Near Infrared) detectable colours, making recycling
easier Everyday Favourites sauce jars - changing
black lids to white generates a saving of 7,630kg of
black plastic per year.
Insert HHSC - P18 Tubs of sauces black white lids
Insert Image OHSC P12 Tubs plastic design page
CLICK HERE to
find out more
about On-Pack
Recycling Label
(OPRL)
Insert image
OHSC P-22
OPRL label
Working with suppliers to reduce plastic
packaging
We have been working with some of our
suppliers to look at how we can reduce the
plastic content of some of our own brand
packaging.
Several of these suppliers have already made
commitments to effect changes that will, in the
future, yield substantial reductions in plastic.
So far, we estimate that these commitments
have the potential to reduce plastic by over
46,000 kg per year.
We have identified a further 187,000 kg of
plastic savings in our top 100 lines that contain
plastic packaging, through reduction or
replacement with alternative materials. We will
be working hard with our suppliers to fulfil the
potential of these savings during 2021.
Insert image OHSC - P10 Plastic Packaging
Design Guide
Engaging our Teams to Critically Review
New Product Development
Click here to find out more about how
we review new product packaging
design
We have also created a paper 'cutlery ba
enable foodservice venues to provide
reusable metal cutlery to consumers in afree way,
avoiding the use of wrapped siuse cutlery.
Insert OHSC - P16 Cutlery bag