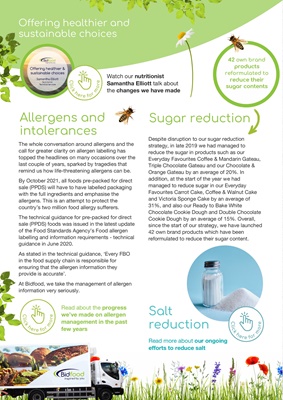 Salt reduction
Click here to read more about our
ongoing efforts to reduce salt
Sugar reduction:
Despite disruption to our sugar reduction strategy, in late 2019 we had managed to reduce the
sugar in products such as our Everyday Favourites Coffee & Mandarin Gateau, Triple Chocolate
Gateau and our Chocolate & Orange Gateau by an average of 20%. In addition, at the start of
the year we had managed to reduce sugar in our Everyday Favourites Carrot Cake, Coffee &
Walnut Cake and Victoria Sponge Cake by an average of 31% and also our Ready to Bake
White Chocolate Cookie Dough and Double Chocolate Cookie Dough by an average of 15%.
Overall, since the start of our strategy, we have launched 42 own brand products which have
been reformulated to reduce their sugar contents.
Allergens and intolerances:
The whole conversation around allergens and
the call for greater clarity on allergen labelling
has topped the headlines on many occasions
over the last couple of years, sparked by
tragedies that remind us how life-threatening
allergens can be.
By October 2021, all foods pre-packed for direct
sale (PPDS) will have to label its packaging with
the full ingredients and emphasise the allergens.
This is an attempt to protect the country's two
million food allergy sufferers.
The technical guidance for prepacked for direct
sale (PPDS) foods was issued in the latest
update of the Food Standards Agency's Food
allergen labelling and information requirements -
technical guidance in June 2020.
As stated in the technical guidance, 'Every FBO
in the food supply chain is responsible for
ensuring that the allergen information they
provide is accurate'.
At Bidfood, we take the management of allergen
information very seriously.
Click here to read
about the progress
we've made on
allergen
management in the
past few years