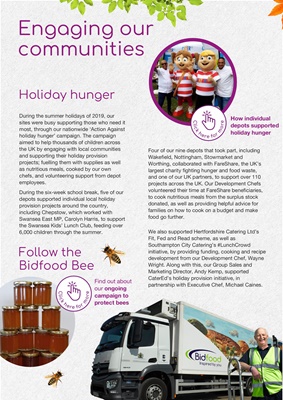 TITLE PAGE
Engaging our communities
Follow the Bidfood Bee
Click here to find out about our
ongoing campaign to protect bees
Insert p21 -
Honey produced
by the hives at the
Paddock Wood
Holiday Hunger
During the summer holidays of 2019, our
sites were busy supporting those who need it
most, through our nation-wide 'Action Against
Holiday Hunger' campaign. The campaign
aimed to help thousands of children across
the UK by engaging with local communities
and supporting their holiday provision
projects; fuelling them with supplies as well
as nutritious meals, cooked by our own chefs,
and volunteering support from depot
employees.
During the six-week school break, five of our
depots supported individual local holiday
provision projects around the country,
including Chepstow, which worked with
Swansea East MP, Carolyn Harris, to support
the Swansea Kids' Lunch Club, feeding over
6,000 children through the summer.
Four of our nine depots that took part,
including Wakefield, Nottingham, Stowmarket
and Worthing, collaborated with FareShare,
the UK's largest charity fighting hunger and
food waste, and one of our UK partners, to
support over 110 projects across the UK. Our
Development Chefs volunteered their time at
FareShare beneficiaries, to cook nutritious
meals from the surplus stock donated, as well
as providing helpful advice for families on
how to cook on a budget and make food go
further.
We also supported Hertfordshire Catering
Ltd's Fit Fed and Read scheme, as well as
Southampton City Catering's #LunchCrowd
initiative, by providing funding, cooking and
recipe development from our Development
Chef, Wayne Wright. Along with this,
Bidfood's Group Sales and Marketing
Click here to read
examples of how
individual depots
supported Holiday
Hunger
Bidfood's Christmas Gift
Click here to find out
about how our
Christmas Gift
campaign rewards
dedicated individuals in
foodservice
Supporting Mary's Meals thanks to Tilda rice
partnership
Click here to find out how our Tilda rice
partnership helps young people with food and
education
Whenever our customers buy either Tilda Brown &
White rice (5kg), Wholegrain Basmati Rice (5kg) or
Easycook Brown Wholegrain Rice (5kg), they
contribute to Mary's Meal. This charity provides a
meal every school day to children in 15 countries
across Africa, Asia, Latin America and the Caribbean,
attracting them into the classroom to receive an
education, which could be their route out of poverty.
This partnership started in 2018 and to date, our
sales of Tilda rice have provided 53,094 meals.