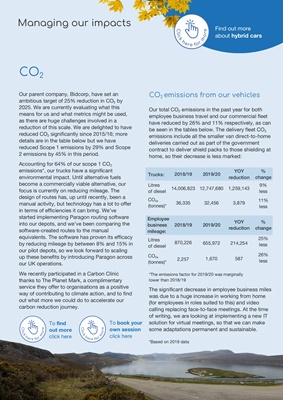 CO2
Our parent company, Bidcorp, have set an ambitious target of 25% reduction
in CO2 by 2025. We are currently evaluating what this means for us and
what metrics might be used, as there are huge challenges involved in a
reduction of this scale. We are delighted to have reduced CO2 significantly
since 2015/16; more details are in the table below but we have reduced
Scope 1 emissions by 29% and Scope 2 emissions by 45% in this period.
Accounting for 64% of our scope 1 CO2 emissions*, our trucks have a
significant environmental impact. Until alternative fuels become a
commercially viable alternative, our focus is currently on reducing mileage.
The design of routes has up until recently been a manual activity, but
technology has a lot to offer in terms of efficiencies it can bring. We've
started implementing Paragon routing software into our depots, and we've
been comparing the software-created routes to the manual equivalents. The
software has proven its efficacy by reducing mileage by between 8% and
15% in our pilot depots, so we look forward to scaling up these benefits by
introducing Paragon across our UK operations.
We recently participated in a Carbon Clinic thanks to The Planet Mark, a
complimentary service they offer to organisations as a positive way of
contributing to climate action, and to find out what more we could do to
accelerate our carbon reduction journey. To find out more please click here:
https://www.theplanetmark.com/globalclimatestrike-strike-the-right-balancewith-the-planet-mark/ and to book your own session, click
here https://
uxk9h51o.pages.infusionsoft.net/
*Based on 2019 data
CO2 emissions from our vehicles
Our total CO2 emissions in the past year for both employee business travel
and our commercial fleet have reduced by 11% and 26% respectively, as can
be seen in the tables below. The delivery fleet CO2 emissions include all the
smaller van direct-to-home deliveries carried out as part of the government
contract to deliver care packs to those shielding at home, so their decrease
is less marked:
insert 2 tables here
*The emissions factor for 2019/20 was marginally lower than 2018/19
The significant decrease in employee business miles was due to a huge
increase in working from home (for employees in roles suited to this) and
video calling replacing face-to-face meetings. At the time of writing, we are
looking at implementing a new IT solution for virtual meetings, so that we can
make some adaptations permanent and sustainable.
Click here to find out
more about hybrid cars