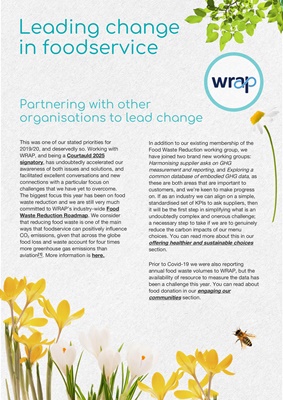 Leading change in foodservice
Partnering with other organisations to lead change
This was one of our stated priorities for 2019/20, and deservedly
so. Working with WRAP, and being a Courtauld 2025 signatory,
has undoubtedly accelerated our awareness of both issues and
solutions, and facilitated excellent conversations and new
connections with a particular focus on challenges that we have
yet to overcome. The biggest focus this year has been on food
waste reduction and we are still very much committed to WRAP's
industry-wide Food Waste Reduction Roadmap. We consider that
reducing food waste is one of the main ways that foodservice can
positively influence CO2 emissions, given that across the globe
food loss and waste account for four times more greenhouse gas
emissions than aviation[1]. More information is here.
In addition to our existing membership of the Food Waste
Reduction working group, we have joined two brand new working
groups: Harmonising supplier asks on GHG measurement and
reporting, and Exploring a common database of embodied GHG
data, as these are both areas that are important to customers,
and we're keen to make progress on. If as an industry we can
align on a simple, standardised set of KPIs to ask suppliers, then
it will be the first step in simplifying what is an undoubtedly
complex and onerous field; a necessary step to take if we are to
genuinely reduce the carbon impacts of our menu choices. You
can read more about this in our Offering healthier and
sustainable choices section.
Prior to Covid-19 we were also reporting annual food waste
volumes to WRAP, but the availability of resource to measure the
data has been a challenge this year. You can read about food
donation in our Engaging our Communities section.
[1] Recent figures reported by the Food and Agriculture
Organization of the United Nations (FAO)