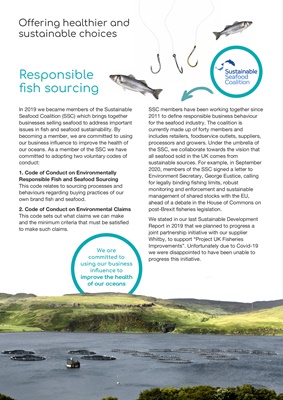 Palm Oil We are glad to confirm that we
obtained Roundtable on Sustainable Palm Oil
(RSPO) membership in early 2020.
Unfortunately due to Covid-19, our progress in
removing mass balance palm oil, RSPO credits
and not certified own brand products has
inevitably slowed down due to our own brand
suppliers being under high pressure dealing with
the impacts of the pandemic on the food industry
and their/our supply chains. However,
discussions are already in progress with some
suppliers, specifically for those products not
certified and using RSPO credits. We aim to
make the switch to more sustainable supply
chain methods or removing palm oil all together;
we continue to work towards reviewing our policy
and the supply chain methods used in-line with
industry standards.
Responsible fish sourcing
In 2019 we became members of the Sustainable
Seafood Coalition (SSC) which brings together
businesses selling seafood to address important
issues in fish and seafood sustainability. By
becoming a member, we are committed to using
our business influence to improve the health of
our oceans. As a member of the SSC we have
committed to adopting two voluntary codes of
conduct:
1) Code of Conduct on Environmentally
Responsible Fish and Seafood sourcing. This
code relates to sourcing processes and
behaviours regarding buying practices of our
own brand fish and seafood.
2) Code of Conduct on Environmental Claims.
This code sets out what claims we can make
and the minimum criteria that must be satisfied
to make such claims.
SSC members have been working together
since 2011 to define responsible business
behaviour for the seafood industry. The coalition
is currently made up of forty members and
includes retailers, foodservice outlets, suppliers,
processors and growers. Under the umbrella of
the SSC, we collaborate towards the vision that
all seafood sold in the UK comes from
sustainable sources. For example, in September
2020, members of the SSC signed a letter to
Environment Secretary George Eustice, calling
for legally binding fishing limits, robust
monitoring and enforcement and sustainable
management of shared stocks with the EU,
ahead of a debate in the House of Commons on
post-Brexit fisheries legislation.
Unfortunately due to Covid-19 our joint
partnership sponsorship initiative with our
supplier Whitby has sadly meant we were unable
to progress this to support "Project UK Fisheries
Improvements", which we had stated we planned
to do in our 2019 report.