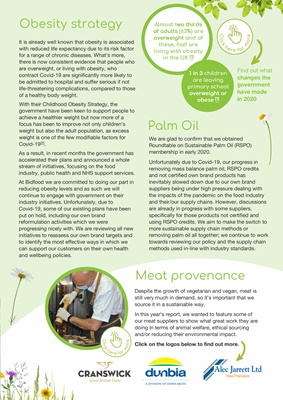 Meat provenance
Despite the growth of vegetarian and vegan, meat is still very much in
demand, so it's important that we source it in a sustainable way.
In this year's report, we wanted to feature some of our meat suppliers
to show what great work they are doing in terms of animal welfare,
ethical sourcing and/or reducing their environmental impact.
Cranswick -
insert logo
OHSC P1
Dunbia -
insert logo
OHSC P2
Alec Jarrett -
insert logo
OHSC P3
Obesity strategy
In the UK, almost two thirds of adults (63%) are overweight and of these, half are living with
obesity. Additionally, 1 in 3 children are leaving primary school overweight or obese[1].
It is already well known that obesity is associated with reduced life expectancy due to its risk
factor for a range of chronic diseases. What's more, there is now consistent evidence that people
who are overweight or living with obesity who contract Covid-19 are significantly more likely to be
admitted to hospital, to an intensive care unit and sadly to die from Covid-19, compared to those
of a healthy body weight.
With their childhood obesity strategy, the government have been keen to support people to
achieve a healthier weight but now more of a focus has now been to improve not only children's
weight but also the adult population, as excess weight is one of the few modifiable factors for
Covid-19[2].
As a result, in recent months the government have accelerated their plans and announced a
whole stream of initiatives, focusing on the food industry, public health and NHS support
services.
Click here to find out what changes the government have made since July 2020:
At Bidfood we are committed to doing our part in reducing obesity levels and as such we will
continue to engage with government on their industry initiatives. Unfortunately, due to Covid-19,
some of our existing plans have been put on hold, including our own brand reformulation
activities. We are reviewing all new initiatives to reassess our own brand targets and to identify
the most effective ways in which we can support our customers on their own health and
wellbeing policies.