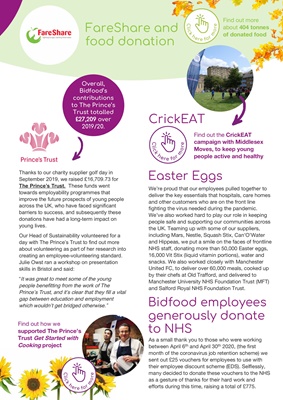 One Water - Insert P31 One Water
logo
Click here to read about our
support for One Water
We continue to promote One Water as
our ethical water brand. The pandemic
has inevitably impacted sales of the
brand, as it has for bottled water
generally. In 2019/20 we sold one
million litres in contrast to 1.3 million
litres in 2018/19.
Bidfood employees generously donate
to NHS
Find out how our employees
donated to the NHS during
Covid-19
As a small thank you to those who
were working between April 6th and
April 30th 2020, (the first month of the
coronavirus job retention scheme) we
sent out £25 vouchers for employees
to use with their employee discount
scheme (EDS). Selflessly, many
decided to donate these vouchers to
the NHS as a gesture of thanks for
their hard work and efforts during this
time, raising a total of £775.
CrickEAT
Click here to find out the CrickEAT
campaign with Middlesex Moves, to
keep young people active and
healthy