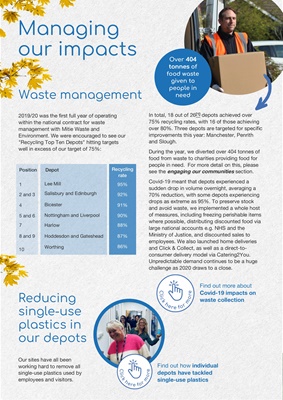 Managing our impacts
Waste management
2019/20 was the first full year of operating
within the national contract for waste
management with Mitie Waste and
Environment. We were encouraged to see
our Recycling Top Ten depots hitting targets
well in excess of our target of 75%:
TABLE T GO HERE
In total, 18 out of 26[1] depots achieved over
75% recycling rates, with 16 of those
achieving over 80%. Three depots are
targeted for specific improvements this year:
Manchester, Penrith and Slough.
During the year, we diverted over 404 tonnes
of food from waste to charities providing food
for people in need. For more detail on this,
please see the Engaging our Communities
section.
Covid-19 meant that depots experienced a
sudden drop in volume overnight, averaging
a 70% reduction, with some depots
experiencing drops as extreme as 95%. To
preserve stock and avoid waste, we
implemented a whole host of measures,
including freezing perishable items where
possible, distributing discounted food via
large national accounts e.g. NHS and the
Ministry of Justice, and discounted sales to
employees. We also launched home
deliveries and Click & Collect, as well as a
direct-to-consumer delivery model via
Catering2You. Unpredictable demand
continues to be a huge challenge as 2020
draws to a close.
[1] This does not include depots Avonmouth,
Huthwaite and Wednesbury due to the
relative short-term nature of their care pack
operation.
Click here to find out more about Covid-19
impacts on waste collection
Collection of waste oil
In the last financial year, Bidfood customers'
waste cooking oil collected by Olleco totalled
576,328 litres. Click here to find out more
about used cooking oil collection.
The sudden drop in used cooking oil
volumes from April onwards reflects the
impact of Covid-19 on the foodservice sector.
All the UCO (Used Cooking Oil) collected
goes to making either biodiesel or bio-liquid
fuels. Biodiesel gives more than a 86%
Greenhouse carbon saving compared to
regular fossil diesel. For more information
please see - https://www.olleco.co.uk/greenfuels/biodiesel.
IMAGE / GRAPH TO ADD
Pallet wrap and trials of alternatives
We set a target to use 5% less pallet wrap in
2019/20 compared with the previous year, and
the table below shows a comparison between
2019 (calendar year) and the 2020 Bidcorp
financial year (lack of historic data means we
can't show like-for-like information for the
2018/19 financial year). We reduced pallet
wrap quantities in both absolute and relative
terms, using 16% less per pick.
ADD TABLE HERE
All of our cages need to be securely shrouded
to prevent damages, stock discrepancies and
contamination, so we have been trying to find a
suitable alternative to plastic pallet wrap, one of
which has been reusable cargo nets. We
haven't yet been able to find a net that covers
the whole cage; recent samples were of a size
that meant we'd need two per cage and a way
of connecting them together to stop items
falling out. We've given this feedback to the
supplier and await next steps. If we were able
to source a 'jacket' for the cages which was
Our sites have all been worki
all single-use plastics used by
visitors.
Click here to find out how in
have tackled single-use pla
Insert P9, Bicester colleagu
reusable cups