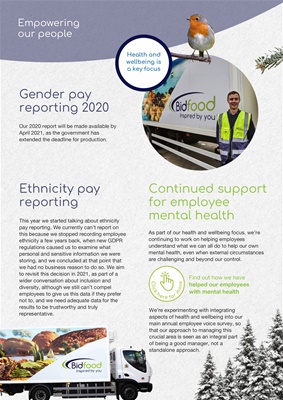 Empowering our people
Increasing the depth and breadth of network
of our Sustainability Coordinators
In 2019, we initiated an ambitious project of
environmental training and engagement for
all our employees, which involved training our
sustainability coordinators in delivering a
one-hour bite size environmental module to
all colleagues at their sites. We had
delivered an initial session to three pilot sites
and received very positive feedback from
participants, but plans were disrupted when
the pandemic hit. Due to pressures on the
business, we haven't been able to roll out this
training further, but will look for opportunities
to restart when our resources and capacity
permit.
Insert P1 - Iain Brierley, Learning and
Development Manager, delivering content
at Ingram village hall
Prior to Covid-19, we were also working hard
on increasing the coverage of sustainability
coordinators across the UK. We'd set
ourselves a target of 100% coverage for all
sites, and we only had three sites left to go,
meaning that we had covered over 90%. We
wanted to recruit the right people with
enthusiasm and vision for the role, and didn't
want it to be a box-ticking exercise, so it's
frustrating to have not reached 100% as a
result of the pandemic halting our progress.
It's good to know that our Sustainability
Coordinators find this role rewarding, as
reflected in our Autumn 2019 survey which
showed that 89% of coordinators wanted to
still be carrying out this role in Autumn 2020
[1], with 11% undecided, quoting time to carry
out the voluntary role being the main factor.
[1] Autumn Sustainability workshop feedback
online survey
Click here to find out what
it's like to be a
sustainability coordinator
Supporting young women into sustainability
careers
Insert P40 Catalyse change Logo
In February 2020 we were proud to become
a supporter of Catalyse Change, https://
catalysechange.com/ an organisation that
recognises that girls and young women are
under-represented in leadership roles, and
often lack the confidence to realise their
potential to become change-makers for a
more sustainable future. One of their
initiatives is to run an annual bootcamp
which aims to equip women with the
inspiration, confidence, skills and mentors
they need to make a positive difference.
They proactively help young women who
require bursaries to participate, and this is
possible thanks to corporate sponsors.
Click here to read more
about how it feels to
benefit from a Catalyse
Change bursary
Eden Project and Planet Mark partnership
As part of our Planet Mark certification, we
receive ten free tickets a year for our
employees to visit the Eden Project, a
visitor attraction run by the educational
charity of the same name, which aims to
connect us with each other and the living
world, exploring how we can work towards
a better future. Jonny Sim, our campaign
marketing executive was just one of our
employees to visit the Eden Project this
summer, and he said: "Visiting the Eden
Project was fascinating - there is so much
to see and learn, and the fact that
sustainability is absolutely central to
everything they do is really inspirational."
" Insert Photo P3 - Jonny and his
partner enjoying the biomes at the Eden
Project