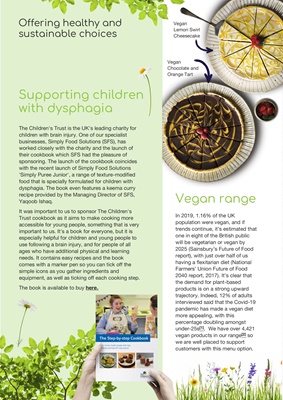 Supporting children with dysphagia
The Children's Trust is the UK's leading
charity for children with brain injury. One of
our specialist companies, Simply Food
Solutions, decided to sponsor the book to tie
in with the fact that we have recently
launched Simply Puree Junior, our range of
texture-modified food that is specially
formulated for children with dysphagia. The
book even features a keema recipe provided
by Yaqoob Ishaq, MD of Simply Food
Solutions.
The cookbook aims to make cooking more
accessible for young people. It's a book for
everyone, but it is especially helpful for
children and young people to use following a
brain injury, and for people of all ages who
have additional physical and learning needs.
it contains easy recipes and the book comes
with a marker pen so you can tick off the
simple icons as you gather ingredients and
equipment, as well as ticking off each
cooking step.
The book was due to be launched on 30th
April at The Children's Trust in Tadworth,
however this was postponed due to
Covid-19.
Insert P2 pic of front cover
Vegan Range
In 2019, 1.16% of the UK population were
vegan, and if trends continue, it's estimated
that one in eight of the British public will be
vegetarian or vegan by 2025 (Sainsbury's
Future of Food report), with just over half of
us having a flexitarian diet (National Farmers'
Union Future of Food 2040 report, 2017). It's
clear that the demand for plant-based
products is on a strong upward trajectory.
Indeed, 12% of adults interviewed said that
the Covid-19 pandemic has made a vegan
diet more appealing, with this percentage
doubling amongst under-25s[1]. We have
over 4,421 vegan products in our range[2] so
we are well placed to support customers with
this menu option.
Insert p20 Vegan Chocolate and Orange
tart and the vegan Lemon Swirl
Cheesecake
[1] Surveyed between 23 April - 7 May; The
Impact of Covid-19 on Food and Drink June
20 (Mintel).
[2] Correct as at 30th June 2019